Out of Bounds: Women Artists from Africa
Mbari Institute
Women artists are blossoming all over Africa, but who would know?
In Africa and around the world, African men get all the attention for their creative endeavors. With the multitude of roles women must assume in Africa -- mother, housekeeper, cook, water carrier, economic contributor and often sole provider -- when does a woman have a chance to make her own artistic statement?
Against all odds, the women in this exhibition are succeeding as artists. In spite of the ingrained mores, they are raising their voices loud and clear for equality, freedom, women's rights, AIDS prevention, cessation of female genital mutilation, free speech and other topics. This is not an exhibition of the victimized; it showcases a group of extremely strong women, illustrating their concerns on many topics.
It is with great pride and respect that I introduce these 20 talented, exciting artists from all over the continent. I have known one of them for over 35 years, since my own childhood sojourn in Nigeria; some of the others are well known to specialists in African art; many are making their U.S. museum debuts with this exhibition.
Mounting this exhibition has been a deeply moving journey. I present the artists, alphabetically by country.
Mimi Wolford
Founding Director
Mbari Institute for Contemporary African Art
CAMEROON - Angele Essamba
(b.1962) is a successful, sought-after photographer who has exhibited widely in Europe. Angele's defining theme is a celebration of the beauty, strength and power of black women. Her pieces are as powerful as Mapplethorpe's, without the lewdness. Through controlled use of line and contrast, she achieves dramatic results.
Comparing Le Fil Conducteur I and VII (The Guiding Thread I and VII), I see women freeing themselves and taking control of their worlds. The compositional structure of Le Fil Conducteur I asymmetrically balances half a face on the left hand side with a thin string, emanating from the mouth, extending across the void on the rest of the canvas.
In Heritage II Angele compares a mask and a face. Men usually wear the masks in Cameroonian festivals and ceremonies, but women can still hide many things behind their visages.
La Battante (The Victor) represents the quintessential liberated woman, elegantly arranged on top of a cage, in all her glory.
CAMEROON - Marthe Nso Abomo
(b.1953) Through our correspondence Marthe and I have become close, fast friends, and this is her first opportunity to exhibit in the U.S.
Marthe's work, like her personality, is vibrant, bold and enchanting. Her bright color palette, whimsy, and use of shapes has been likened to the famous Dutch painter Arp, with whose work she only recently became acquainted. Her subject matter, however, is far bolder and more engaged with society.
In La Revolution des Femmes (Women's Revolution), one of her more somber paintings, Marthe shows four confident women who, she has said, are tired of being dominated by men and have decided to take charge, to fight for change. The bird on the left hand side has been placed there to help the women, in case they falter.
Dans ton Nouveau Monde (In Your New World) deals with the tension among young women in rural areas who feel pressured to become more westernized. One young woman who wants nothing to do with the new modern ways is portrayed as a tigress, ready to fight for the old values. When she goes to meet her friends who have tried to convince her to change, she shows up with her traditional dress and habits.
Marthe's two other works in this exhibition also depict strong women. La Danse de la Pluie (Rain Dance), very Arp-like, shows a woman doing a little rain dance in hopes of getting much needed water for the family. La Femme en Jaune avec Bonnet sur la Tete (The Woman in Yellow with a Bonnet on her Head) portrays a dignified UN envoy on mission to discuss erosion in the dry countries of Africa. Both paintings were included in the 2003 edition of International Gallerie, published in India.
EGYPT - Naglaa Ezzat
(b.1975) is a master of graphite technique whose work in this exhibition elicits a very visceral response.
Her "Lonesome Series", which includes Old Window, Leave Me and Lonesome, features sinewy forms that resemble roots, veins or muscles. In Leave Me these forms have a strangle hold on the woman, seemingly immobilizing her. This piece reeks of despair. Lonesome depicts a fearful, sad woman with her head on a chair with less constricting cords around her waist. Fissures in the wood-like floor suggest an earthquake has occurred, but the woman seems fated to remain in place, unable to choose the difficult path to freedom. Old Window shows a forlorn young woman leaning out a deteriorating window hoping, perhaps, that someone will come by or something will change.
Naglaa considers all three women trapped by their own perceptions. Beshtak Palace, a piece that many people mistake for a photograph, depicts a real place in old Cairo now called "Al Hussein." It shows a serene, contemplative, traditionally garbed young woman lost in thought.
Features from Egypt is a surrealist drawing of a woman from the countryside wearing interesting ethnic jewelry. Silver is an important element of adornment, and we see an echo of the neckpiece in the lines above the woman's head. This illustrates the way Naglaa tries to break the classic mold of portraiture, spontaneously incorporating additional motifs and designs.
ERITREA - Elsa Gebreyesus
(b.1969) is an activist who works for philanthropic organizations in the Washington, D.C. area, and paints in every spare moment. Her captivating abstracts seem simply pleasing to the eye from a distance, but when you get closer you become aware of the powerful messages they convey.
States of Me is a personal history with many layers and compartments. Elsa explains that she is layered with cultural and social influences from many different parts of the world, calling herself "a native stranger". The movement of her brush strokes invokes the migratory aspect of her life in exile.
Silenced is a mixed media piece that speaks of the closing of all the independent newspapers in Eritrea, resulting in the imprisonment of eight editors since 2001. Text from the newspapers in the upper left and bottom right corners of the canvas offers a glimpse of free speech in Eritrea. The repetition of patterns in this work represents historical cycles and the repetition of political patterns in post-conflict countries.
About V, Elsa has said, "This painting is a celebration of the feminine energy, sexuality, sensuality and creativity. The female vagina is a gateway to life, birth, ecstasy, and holds the mysteries of creation. It is in honor of that feminine energy, of the goddess within every woman, that I painted this piece."
In the mixed media piece Article XIV Elsa focuses on the Constitution of Eritrea, ratified in 1997 but never implemented. Instead, there have been arbitrary arrests, disappearances and terrible human rights abuses in that country. Elsa highlights Article 14 & 17, civil rights clauses that relate to arrests and detention. Article 17 is inverted in the bottom half of the painting, along with brush strokes evoking a ripped feeling. Elsa prays that one day soon the government will abide by the Constitution.
Malaika ( Kiswahili for Angel) is a poignant ode to all the young women and girls who have had to endure the tragic act of female genital mutilation. Elsa's poem of the same name is written on the canvas, along with thrashing and cutting gashes of the brush. Standing in front of this artwork, one feels the pain the artist intended to convey.
ETHIOPIA - Sophia Kifle
(b.1958) a dedicated artist who migrated to the U.S. in 1982, addresses issues such as humanity, freedom, pain and love in her work. She is a prolific painter who received her MFA from Howard University in 2000.
Much of Sofia's work shows compartmentalization, an attribute of traditional Ethiopian story paintings where you see frame after frame as the story progresses. Her work exudes a sense of mystery. Recently she has begun to incorporate sand to add texture to her pieces.
The Invisibles features twelve faces encased in cocoon-like gossamer, a commentary on personal interactions in western society that contrast with the African custom where strangers look each other in the face in passing and smile or say hello. Sofia has said of this piece, "Nobody seems to look at each other ... just random faces carrying their shield in the mask ... always disguised."
Silent Prayer describes the daily routine in Ethiopia, from chores to church and back home again – a cyclical interpretation including the watched and the watchers. The Search, in blues and black, offers interplay between artwork and viewer whereby the viewer becomes the artwork and the artwork becomes the viewer. "The eye that sees suspends the moment of the inner and outer forces of the human spirit." Lost souls looking for themselves and one another?
In The Solitary Meditation we see women with outstretched arms placed in random compartments, highlighted by backgrounds of bright orange–red. Salutations to the sun, perhaps? The blues and black lines resemble an aerial view of a bustling town. Imagination of a Dream, in rich earth tones, shows people in cubicles, with attributes the artist calls, "hushed stares ... a dream state ... contemplations".
Peace speaks of the all encompassing quest for freedom, harmony, and balance. "Peace is everything....Peace is the core of our humanity." This abstract piece with all its oranges, pinks, blues, yellows and greens is a symphony of color and an ode to the title.
IVORY COAST - Monique Le Houeller
who was born in Hue, Vietnam, lives and works in Abidjan, and is the only artist in this group who has adopted Africa as her home. After extensive travel throughout the continent, Monique says she is inspired by the variety of natural phenomena she has seen as well as the utensils used, customs practiced, and items discarded. Her aspirations are to capture the essential, the emotional and the spiritual.
Blue Door pays homage to the blue men of the vast Sahara – the Touareg. They are called the blue men because of the hand dyed indigo clothing they wear. It is not a color fast dye and moves onto their skin. The desert opens the door to them as their nomadic life takes them from place to place. Doors in general are very important in many regions of Africa where people desire to welcome only positive energy into their home.
Divination Table is symbolic of the wooden divining board widely used by oracles throughout West Africa to predict one's fortune, the cause of illness, the identity of who in the village might be playing tricks, or what gender your baby will be. Rather than use a board or table, the Dogon compose a drawing in the sand that they leave unattended overnight. It is believed that a mythical animal, the "renard pale" visits the drawing during the night and changes it. The next day the shaman reads it and predicts the future.
The Idea of Water alludes to the widespread concern for this crucial natural resource in the arid areas of many countries bordering the vast Sahara. The piece of glass represents the precious water. Tears (les Larmes du Sahel) is a textured flat irregular shaped metal piece supported by seven spikes. Smaller metal pieces have been attached randomly like patches and seven other nails echo those that support, with five bordering open areas, or rips. This piece is evocative of the hardship and suffering caused by the absence of water in the Sahel, the parched desert region of Africa. All lives have existential tears, breaks and bruises – as well as tears in moments of sadness.
KENYA - Eunice Wadu
(b.1965) first worked in cloth design before being inspired to paint by artist Sane Wadu, who later became her husband. This is her first opportunity to exhibit her work in the U.S.
Eunice paints very freely and flatly, using muted tones. While there is always a serious message, it seems to be tongue in cheek.
Sewing shows a gruff-faced woman behind a sewing machine next to an assistant who is ironing.
Untitled, in the words of the artist, is about women who are worried about their husbands not coming home for one reason or another. Gossip on Wire depicts idle women, whiling their time away as if they have nothing better to do. Eunice says, "It is better to occupy yourself than to just go around gossiping."
Save Me, Mother speaks to the fact that abortion is illegal in Kenya, forcing women to resort to the back streets where unskilled quacks practice on frightened women.
The Scared Pope II shows us a black Pope in his white robes, falling back in his chair, bracing himself on a nearby table. His mouth is wide open and he has a horrified look on his face as he sees the cowering young man in the doorway. Eunice says it depicts a former altar boy who has returned, sick with AIDS; the cleric is afraid he himself will be infected.
MALI - Sira Sissoko
is a talented young woman who learned to make paper at a workshop in Bamako conducted by Canadians. Sira has been incorporating natural dyes from Mali in this medium ever since. In 2000 she visited the United States for the first time, joining a group of artists assembled by painter David Carlson to exchange ideas at the Pyramid Atlantic in Washington, D.C.
The deckle-edged thick papers, combined with the richness of color derived from henna, mud, onionskins, and cinnamon, present delicate abstract visuals with powerful inferred statements.
La Lumiere (The Light) shows two halves of paper, almost mirror images of each other, connected by two thin sticks and strands of paper. In each there are two white areas or rays of light. The layers of dye, textures and inclusions in the paper all interact to make it a dynamic piece. Sira says it recalls an ancient Bamana design, showing the force of light on darkness, and means that truth will conquer falsehood.
L'Automne (Autumn) is dedicated to the artist's visit to Washington, where she was struck by the falling leaves. Danse des Signes Bambara (Dance of the Bambara Signs) uses ancient symbols of the Bamana people that represented the powers of water, masks, and circumcision. The piece consists of woven strips of beautifully dyed handmade paper, printed with the traditional designs that serve the Bamana as a visual language.
MOZAMBIQUE - Reinata Sadimba Passema
(b.1945) was born in the province of Cabo del Gado, a rural Makonde area in northern Mozambique.
From an early age she learned the art of pottery making from her mother. Her first pieces were utilitarian, but after the breakup of a reputedly abusive marriage, Reinata tired of doing the same pots over and over and began adding her own embellishments to the pieces. Inspired by Makonde designs and spirits, her vessels started growing into amazing creatures and figures. She received important support from Augusto Cabral, Director of Mozambique's Natural History Museum who offered her studio space on the museum grounds when she moved to the capital, Maputo, during the civil war in the 1980s. Hailed as a visionary, she now creates ceramic sculpture at a feverish pace, never discouraged when a piece breaks during firing, and always creating imaginative new structures.
Here we have one example of her earlier period and two recent creations. The large coiled water vessel is beautifully incised and burnished with decorative motifs. Her transformation piece, made in 1998, shows the essence of womanhood, combining birthing, with the child's head emanating from her stomach, and mothering, with children representing continuation of the lineage. This strong, determined woman has two external treatments, one side is texturally crusty while the other is elegantly designed with Makonde scarification, indicating her origin as mother earth and her place within Reinata's ethnic heritage.
The unfired woman with three arms and one leg was created in June, 2000, when Reinata visited Washington, D.C., after participating in UNIFEM's "Progress of the World's Women" exhibition in New York City.
NIGERIA - Florence Adeyemi
(b.1949) hails from Ijebu-Ijesa, Osun State. She studied at the Ori Olokun Art School (now OAU Institute of African Studies) and is the wife of acclaimed Batik artist Yinka Adeyemi. Her depictions of daily life and religion are bold, honest and filled with pattern and texture.
Happy Family shows four members of the family with boggling eyes facing the viewer while a daughter seems to linger shyly behind the father. This painting is punctuated with primary colors; all shapes are outlined in black and patterns abound. To Market depicts two women walking towards us with loads on their heads.
Mother and child show the profile of a well-dressed woman, baby tied to her back with a wrapper, a common practice in Nigeria. Weaver is a more intricate piece showing the weaver with her loom set up in front of the compound. The long green and yellow strip cloth weaving snakes around the foreground while the back of the work is highlighted by black, red and white stripes on the roofs of the huts. Both To Market and Weaver are batik on rice paper pieces which have background texture enhancement due to the crackle of the wax.
NIGERIA - Peju Layiwola
(b.1967) is the daughter of acclaimed sculptress Elisabeth Olowu, and granddaughter of Oba Akenzua II of Benin, Nigeria.
Here we are introduced to two of Peju's lost wax bronze sculptures and three relief paintings, inspired by her friend and mentor, Bruce Onobrakpeya, the famous Nigerian printmaker. As a young mother of three and lecturer at the University of Lagos, Peju is an energetic, dedicated artist who had her first exhibition in the United States at the Mbari Institute in 2003. Since then one of her relief pieces has been chosen for a 2004 exhibit at The Philadelphia Museum of Art.
Her bronze piece Quest for Water is the quintessential image of a woman carrying water on her head with a baby on her back. Peju's treatment of this most common theme in African art emphasizes dignity and pride.
Fourth Month, a sitting woman replete with child, has even more interesting lines as she holds her stomach covered by a wonderfully textured cloth with onlay patterning.
Peju's three resin relief panels are also very sculptural. Women of the Haremis an autobiographical piece. Peju was born in the harem where her mother, the Oba's daughter, had sought refuge during the civil war. Unity, in the words of the artist, "expresses the harmony that could exist between diverse cultures and peoples of the world. Each pillar reflects varied textures, representing people, unified as they stand side by side." Migration Stories is about the movement of people across borders, both physical and cultural, with integration as the hoped for outcome.
NIGERIA - Nike Davies Okundaye
(b.1951) is a world-renowned artist whom I have known for over thirty-five years. What an innovative pillar of strength she is! She draws extensively on her rich cultural heritage and fathomless imagination to create stunning batik, starch-resist and embroidered hangings.
The pieces here are "embedded" (Nike's term) with Yoruba Orisha agents. Accordingly, Young Mothers, the horizontal batik with two mothers and a baby holding a bottle, build and develop the world.
After-World Mothers replicates and gives birth to the young mothers in the next world. In this batik, the large figure of a woman seated with a potion in her hands seems bigger than life. She is flanked by two cats who are either mother and child, or agents of the Orisha, or both.
Osun Festival is about the river goddess Osun (or Oshun) who is celebrated annually in Oshogbo. One of Osun's responsibilities is to look after and protect pregnant and expectant women. This large vertical starch-resist piece depicts a shrine in the top left corner, maiden dancers, and an oil lamp in the top right. The bottom half shows revelers, a woman carrying offerings and three musicians.
The small vertical embroidery Arugba Osun shows virgins who carry the offerings to the goddess Osun during the annual festival. The vertical stripes in this piece seem to reverberate, while the level of the all blue eyes give a horizontal aspect to the composition, tying it all together.
The Herbalist Woman, another vibrant embroidery, shows a woman keeping watch over all the newly born children, protecting them from evil spirits. The colors, patterns, variety of stitches and shading make a splendid piece.
NIGERIA - Ada Udechukwu
(b.1960) from Enugu, Nigeria is an established artist and poet who has exhibited widely, including the National Museum of African Art in Washington, DC. Simon Ottenberg features her in the book
New Traditions from Nigeria: Seven Artists of The Nsukka Group
(1997).
Inspired by the Igbo Uli symbols of Eastern Nigeria, traditionally used in body painting, her delicate forms reverberate with strength and rhythm. Her goal has been to restrain design within boundaries while creating the illusion of unrestrained motion, interfacing lines with space. Ada likes to use gradations achieved with black ink and washes and variations of browns and blues because she feels the power of "color" is in tone and texture. The limited palate allows her to explore the nuances that are the essence of her work. Her subject matter is very personal, mainly focusing on human relationships and the emotions that arise from them.
Offering discusses the bonds between mother and child. In Ada's words, "The child is given to the mother as an offering and she in turn must release her child."
Breeding speaks about the relationship between man and woman, including "duality … navigating a dual heritage." Cracks is a soft charcoal with a loud message, showing how easily, and tragically, divisions can appear between two people. Ada says, "Within the walls of our inner being, what is released slips from the cracks."
Within This Landscape deviates a bit from the usual palate and speaks to the configuration of one's life, the movement from place to place and phase to phase, all interlocking. Rivers Between Us, the boldest of her five pieces in this exhibit and the only collage piece, incorporates strips of faces in the center of the work, providing many symbolic inferences. Ada says it depicts, "The nature of distance - within time and space, and how this affects one's internal and external lives."
SENEGAL - Rackie Diankha
(b.1974) is a graduate of the Ecole des Beaux Arts in Dakar. She has exhibited widely in Austria and here in the U.S at the Mbari Institute in 2003. Her conceptual pieces are at once intriguing, rich in mystery and beautifully textural.
Emancipation, her largest and most imposing piece in the show, carries a message from Rackie to the women of Senegal who, she feels, should be able to express themselves freely, have the right of free speech, attain higher education and experience life like all other women in the world. "I am hoping for modest emancipation, so that women can realize their true value, but not an emancipation that will turn the society upside down, because total freedom for women would not be looked on favorably by either the men or the women in this society." The luminosity she achieves in Emancipation contributes to the extraordinary quality of this painting.
Intimate Language portrays the symbolical importance of hand woven and dyed textiles in Senegalese society. The squares in this work reflect many different customs in their lives. Coded Language I contains symbols important to Rackie's life, signs and symbols taken from nature. Koumpe (Curiosity) discusses the wish to know what is hidden in back of something. Here the artist revives the intimate undergarment ("petit pagne"), emblematic to her society, which can be compared to a veil that hides a beautiful face behind beads. The holes and beads in this work are meant to reinforce curiosity and fascination. Untitled, made while the artist was visiting Washington, D.C., is an ode to her four week stay in the U.S. in 2003.
SOUTH AFRICA - Yolanda Prinsloo
(b.1968) was born in Port Elizabeth, South Africa, and graduated from the University of Stellenbosch with a degree in painting and art history. A self-searching artist, Yolanda concentrates on topics near and dear to her heart like cultural equality, societal harmony and individuality. Her subjects are people, customs, and memories. As a biracial woman, she faced many injustices during apartheid in South Africa.
The Birth of a South African Venus is an ode to Saartjie Baartman, seen in three manifestations emanating from a protea, South Africa's national flower. Saartjie a Khoi Khoi woman whose body differed greatly from the western concept of beauty, was promised wealth and fame if she would go to Europe in 1810 and stand nude on display in various exhibits. People poked, prodded and made disparaging remarks about her. Saartjie died at age 26, due to drastic climactic and diet change in Europe, and her body parts were preserved at the Musee de l'Homme in Paris. The South African Government was finally allowed to bring her remains home a few years ago, where she was buried with dignity. Yolanda poignantly states, "She was a 'freak show' in Europe, but to us she is beautiful, and we are proud of her."
Frida and I explores Yolanda's search for identity. "I have been told that I look like Frida Khalo. I am not much like her, except for the fact that we are both of mixed heritage. Being biracial has its advantages and disadvantages. I can experience different cultures and take them as my own yet, at the same time, I don't seem to be able to fit in completely." This diptych painting shows not only facial similarities but similar items each found important to collect.
African Welcome proclaims that no matter where you go or who you visit in Africa, you will always be offered a drink of friendship. The doll represents a talismanic numen of the power or knowledge we already possess to create a new world of peace and love around us.

SOUTH AFRICA - Nomsa Kumalo
is a young artist who has already had much success with a solo exhibit at the Standard Bank National Arts Festival, Grahamstown festival, among other venues in South Africa.
Her subject matter highlights black women of South Africa, who were among the most oppressed groups in the world under apartheid. Due to a lack of education and resources, many of them had to resort to badly paid domestic service, with long hours and little ability to negotiate favorable terms. Here we see four ink studies of black domestic workers whom Nomsa portrays with grace and dignity. These women worked long hours to earn money for her family, often living apart from them at the employment site in an affluent neighborhood. While the images show the harsh reality of the women with great sensitivity, they are transformative.
In Domestic Worker as Venus, we see that the woman has not lost her feminine power nor her contribution to the process of life. Domestic Worker at Rest shows the woman in profile, supported by her arms, seated on a white cloth with her legs out in front of her. Her back is straight and the only signs of real weariness can be inferred from the stark contrast of the jagged ink wash in back of her. Domestic Worker Hanging Washing is made to look as if she is almost having fun, flinging the white cloth over the wire. The boldness of the ink wash contrasts beautifully with the delicacy of line. In Domestic Woman's Burden, the hardships are more evident in her posture and the two pieces of laundry still hanging on the line. The gestures drawn in these works are so simple, yet the statements are so poignant.
SUDAN - Iman Shaggag
(b.1970) is a very sensitive, spiritual painter making her U.S. debut with this exhibition. Her minimal lines and muted colors pack a hard punch to the heart and eyes. She painted this series about women in difficult situations, having almost no hope or options in life. This is only part of the situation in which Sudanese women find themselves as they struggle with war, bad economic circumstances, poor health, education and social problems. Most of these women were brought up with the idea that they don't have lots of options because of their gender, and must always rely on someone else to make decisions for them.
In Revolution I and II we see truncated women, womb-like in their pods underground, waiting to be birthed … a sad commentary on the servile conditions women still face in so much of the world. Iman told me that women, armed with hope and determination, will be the next revolution in Sudan, "I imagine that they will grow out of their bulbs when they are ready, and when they acquire the right tools and experience."
In Growing II, there seems to be even more hope, the colors are warmer and the women no longer trapped in the bulbs. Growing, in and of itself, epitomizes progress. Feeling Blue has the essence of loneliness in its simplicity and dark color use, yet the harmony of the colors and undulating lines also give the viewer a sense of sadness, "a settled sadness of wanting and needing peace that does not go away."
War, on the other hand, shows women in turmoil, one even upside down! While women, especially in Sudan, have nothing to do with war, as they are not in the governmental decision-making arena, they are always the victims of war. Still, there is a ray of hope as one's eye passes across the canvas to the sliver of growth on the right hand side.
Hijab, perhaps the most controversial piece in the exhibition, shows the naked backside of a woman donning only the reverential head covering, a requirement of the Islamic code. The use of dark colors, the beautiful magenta and the turned back make this a truly elegant protest against female discrimination. The other side of the free standing piece shows the woman's shadow...hesitating to comply, and the black circle on the floor serves as the anchor. In Iman's words, "This body of work is about protesting self-censorship and all forms of censorship, while expressing my dreams and wishes for a better life for women, particularly Sudanese women."
UGANDA - Lilian Nabulime
(b.1963) is a lecturer and was head of the Sculpture Department at Makerere University, Uganda. At present she is a PhD candidate in the U.K. Her pieces here are concerned with the devastating effects of HIV/AIDS. Her message to women is that they should reevaluate their sexual conduct because statistics show that more women are infected by the disease than men.
Her faces, carved in wood, are the masks of people trying to hide their plight; her glass test tubes contain the various tragedies that are in store for the afflicted. None of the consequences can be predicted. Viewing the test tubes, we face an enigma because the initial visual response is to concentrate on the interesting, varied contents, putting aside the message.
The Knots speak to the fact that, because of poverty, so many women get trapped in risky relationships which expose them to AIDS. The cowrie shells are symbols of strength that can empower women.
ZIMBABWE - Mary Kaundo
(b.1966) joined an art workshop given by Ilse Noy in 1988. She has used cornmeal paste resist work on cloth ("sadza painting") ever since.
Accustomed to hardships, having lost her father during Zimbabwe's liberation struggle when she was seven, Mary is a single mother of four boys and supports her family through her art. Her charming pieces are extremely busy, teaming with patterns and flora. People and huts punctuate the compositions. Mary's work lies somewhere between Bali and Haiti in feeling and in palate, and each piece conveys a message.
A Great Friendship underlines the importance of female friends that will last throughout your life. Barika tells us about the perils of polygamy, a common practice in rural areas in Zimbabwe. Learning for Marriage is a manual for a happy future while Tears of Joy or Sorrow speaks to the problems of AIDS and the thinking that the traditional healer can take care of anything.
ZIMBABWE - Roselyne Marakasi
(b.1977) trained as an artist in Zimbabwe, immigrated to the United States in 1999 and is now studying in Kentucky. Her paintings are characterized by the use of a lot of blue and small brush strokes.
Harare is a commentary on the "Sunshine City", a place where one sees vast discrepancies between the rich and the poor. The once clean streets have become infested with waste and are now home to abandoned, orphaned and abused children. Food is very hard to find unless you are wealthy.
Melancholy is an autobiographical piece, reflecting how Roselyne felt upon first coming to the United States, "I felt so alone, depressed and bored – my relatives here didn't understand me; I didn't want to be understood by them and they offended me."
Not Talking is a sensitive rendering of arguments between two people, and how it affects their postures. While the dispute is clearly evident, her use of the palate knife softens the "thick" atmosphere.
In The Clay Pot we see a man sitting holding a clay pot, a symbol of fertility and sustenance all over Africa. Women were the pot makers in Zimbabwe, but here the pot, losing its functionality in modern times, is meant to evoke beauty, the womb of mother earth or the foundation of life.
No Time to Grieve, tells us burials are frequent, due to many reasons, AIDS above all. Roselyne says, "You barely have time to grieve before you are called away to another funeral." She also likes to do small paintings, and The Painter is a charming autobiographical piece, showing her working in her relatives' crowded basement. A dedicated painter will always find a place to paint!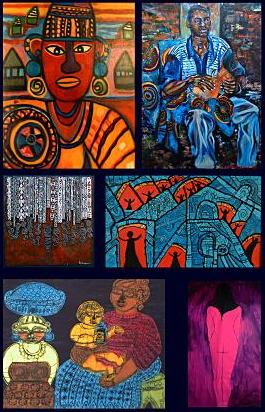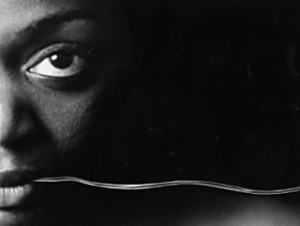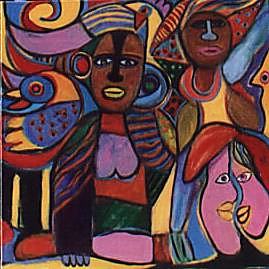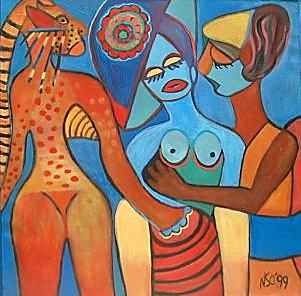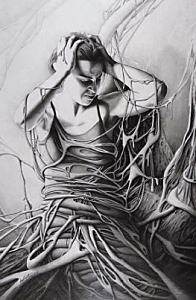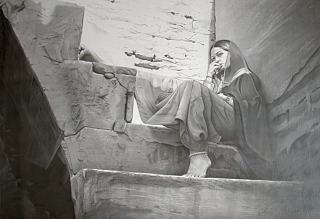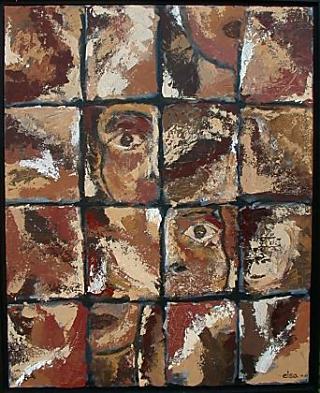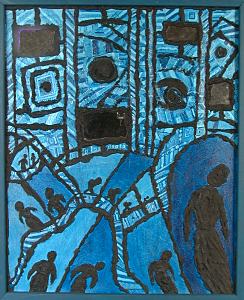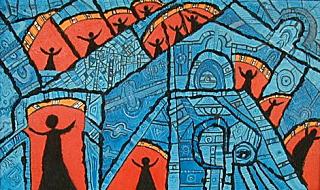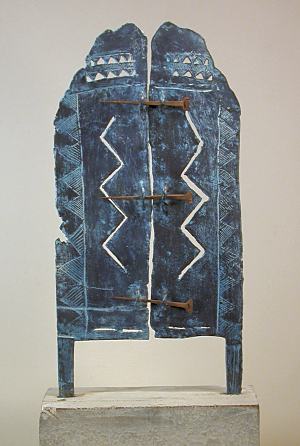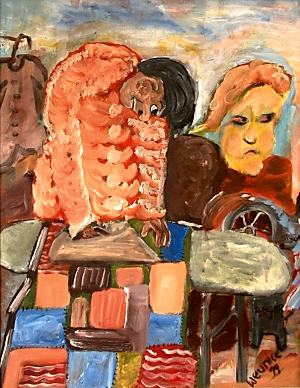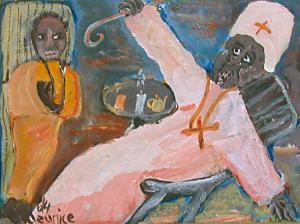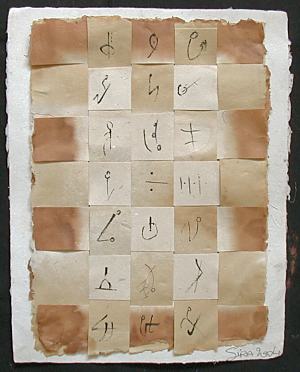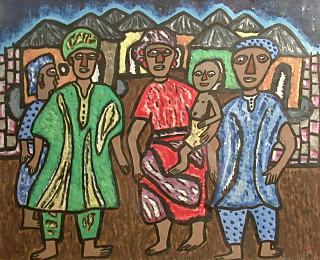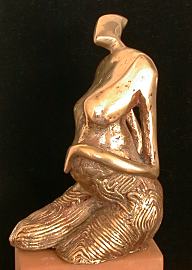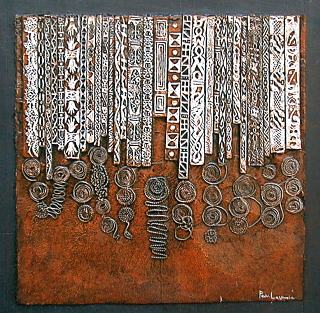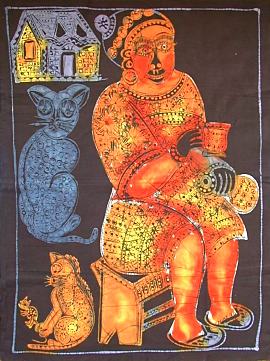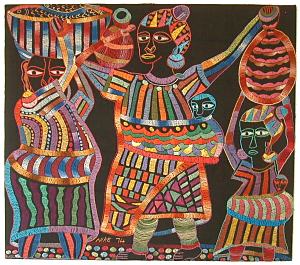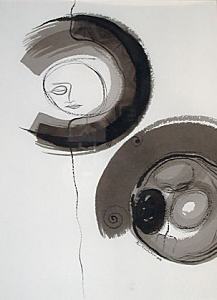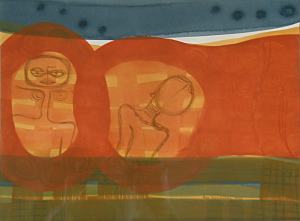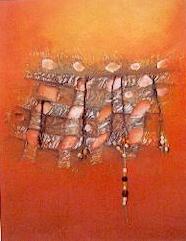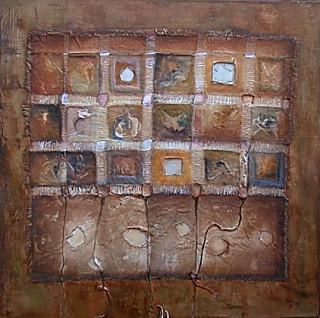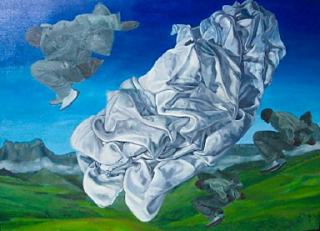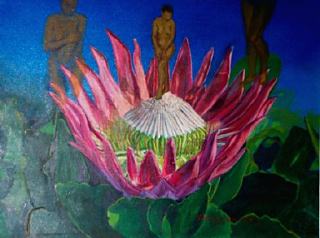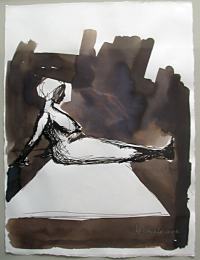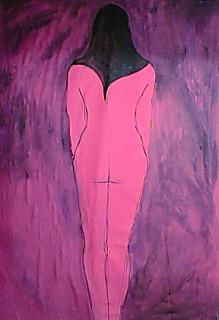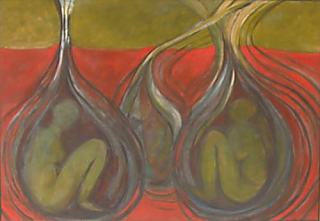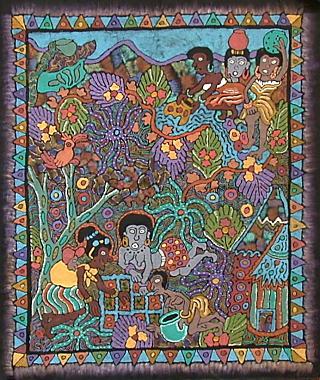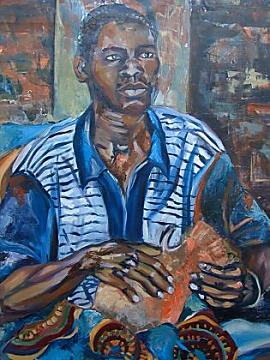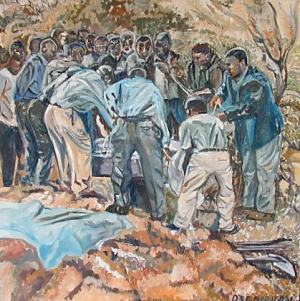 next