In the early 60's , under the auspices of Ulli Beier, a professor at the University of lbadan in Nigeria, several art workshops opened in the bustling trading town of Oshogbo. These heralded the beginning of a renaissance in art there.

The Wolfords, a family of artists, were soon traveling back and forth from their home in Lagos to Oshogbo. The works in this exhibit, from their collection, are a part of their personal history as well as a view of Oshogbo's art legacy.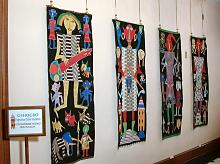 Many of the young Oshogbo artists became friends. The Wolfords started a weekly open house offering them a place to show their work. At times the whole Wolfords's house was turned over to art exploration as Jimoh Buraimoh executed mosaic tables, others painted, and traders appeared at the door with their wares.

"Nigeria was an exciting, thrilling place to be in those days--the richest country in West Africa. In this atmosphere of 'All being possible', even though Nigerians were, for the most part, not purchasing new art at that time, there were exhibitions, pieces were sold and inspiration abounded."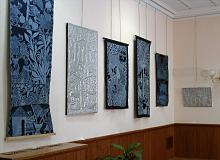 "Adebisi Fabunmi, Jimoh Buraimoh, Isaac Ojo, Gift Orakpo, and Adebisi Akanji became adept in several media, family members encouraged other members. Ashiru Olatunde and Jinadu Oladepo, brothers, who both worked with metal, inspired their daughters Sensbu Olatunde and Kikelomo Oladepo to work in the traditional adire technique of cloth dying, in a more contemporary manner. Soon, other artists began working with starch and wax resist, and tie dye. This exhibit is the result of their efforts -- each a unique statement!" *

Many of these artists have exhibited worldwide: Twins Seven-Seven's autobiography will be published soon, an 80-piece retrospective of his work opens in Holland. Jimoh Buraimoh has installed many murals in the United States. At present, there is an exhibition of many of these Artists' work at the Smithsonian's National Museum of African Art.

* Mimi Wolford (Mbari Art Institute)