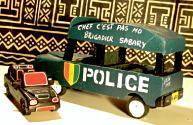 This photographic book documents a delightful collection of handmade miniature vehicles, boats and planes made from discarded and recycled material in Africa and purchased in at least 20 different countries between 1985 and 2003. They range from rudimentary to amazingly sophisticated. The collection has educational, cultural and environmental aspects.

The book has 80 full-color pages of model cars, trucks, motorcycles, planes and boats, all made from bits of tin, wire, cloth, wood, plastic and rubber. It is a testament to the imagination and ingenuity of African children and craftsmen, and a delightful addition to the body of publications on global folk art.

Author and collector Jude Andreasen spent eight years working and living in African countries. Cleve Overton has traveled the continent with Ms. Andreasen from the Cape to Cairo.