House of Africa
fashion designers, Lesotho

House of Africa
fashion designers, Lesotho
House of Africa
was first started in October 2001 when two women, P. Bickel and D. Ntlatlapa, who each had an idea of producing clothing for the local and South African market realized that going alone was too difficult and decided to come together under one umbrella with the aim of providing encouragement and support, exchanging of ideas and sharing market information.
Other women with similar ideas were invited to join the core group and the number of members now total ten. House of Africa materialized and was formally registered on August 14th, 2002. The company's motto is "Action for House of Africa" and the logo is "AHA!".
Organization:
House of Africa is an organization formed by a group of ten women, to produce apparel, home furnishings and crafts of mainly African design, using, to a large extent, African material, for the local and overseas market.
The organization works with skilled artisans throughout Lesotho who generally work from community-based or home-based workshops.
House of Africa aims at creating and manufacturing attractive, unique, high-quality products that will reflect the region's traditional culture and its vibrant arts and crafts. Since August 2002, House of Africa has engaged Mr. William A. Ole Mollel, a textile design technologist and successful handicraft developer from Tanzania, to upgrade the skills of our artisans in order to ensure quality products of an internationally accepted standard.
House of Africa also has a support group which was started in 2002, which provides a forum for economic, social and professional interaction, exchange of ideas and dissemination of information to subscribers already in textile or crafts business. House of Africa also sponsors lectures covering a wide range of topics from business-related issues to more vocational schools, etc. who at present are finding it difficult to find a market for their products.
One of the support group's proposals is to create a permanent central display center where the different production groups can display and sell their products. The coming together of the different groups will make it easier for the members to interact and the center will form one of the places of interest for the local people and for tourists, so far an untapped market and a first in Lesotho.
The long-term aims for House of Africa are to provide skills training to other community crafts groups and ultimately work in partnership with these groups in manufacturing products for the export market. This will necessitate the setting up of a resource center/warehouse to facilitate easy access to resources and market outlets.

Product Description: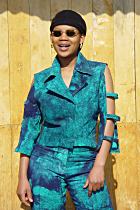 Current products include clothing for toddler/children, women and men. The materials used are polar fleece, batik and tie-dye designs peculiar to the Southern regions as well as Seshoeshoe material- a cotton fabric with design prints unique to Lesotho.
While the line of products will grow through time, other items being developed are lambs wool knitwear (wool, spinning and knitting are indigenous to the region), home furnishings i.e. bed linen, blankets, table cloths and cushion covers; woodcraft/handicraft items such as mohair products, wooden boxes and picture frames.
To see a selection of our finished pieces, click on the 'products' link at left. For some of our fabric samples click on 'fabrics'. Please contact us for more information on our work or to place an order.
these pages submitted to africancraft.com by House of Africa, Jan. 2005 -- last updated, Nov. 2022