Basotho Litema Designs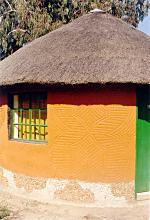 Litema (pronounced DEE-teh-ma) designs, also know as "Designs of Earth," originate from traditional Basotho homes. These designs are unique to Lesotho, a small country surrounded entirely by South Africa. Decades ago, most Basotho homes were rondavels: round one-room structures characterized by stone, dung, and soil walls and floors, and thatched grass roofs. In the last stages of construction, Basotho women smear the walls with a dung-soil mixture to smooth the outside appearance. They then use their fingers and/or forks to create Litema patterns on the outer walls and floor of the house.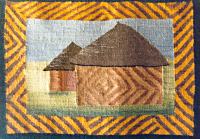 These patterns are geometric and repetitive and commonly contain petal or leaf-like shapes. While some Litema patterns represent objects like spider webs or corn, most are purely decorative. The use of these patterns shows the owner's pride in their home.

In some rural areas of Lesotho, one can still find Litema on the majority of homes, adding texture and beauty to the village. Yet, as cement blocks and tin roofs continue to replace grass, soil and stone as building materials, the occurrence of Litema is steadily declining.

In an effort to revive and sustain this aspect of the Basotho cultural heritage, the Elelloang Basali Weavers are incorporating these patterns into their weavings. Their Litema and Paterone (a name for the patterns drawn on the floor) rugs, table mats, wall hangings and bags have proven to be very popular with international customers. They have also given the weavers the dual pride of sharing a unique part of their culture with a foreign audience and sustaining the use of Litema in a new medium – creating the patterns with mohair wool and twine instead of dung and clay.