For all purchase inquiries please write, phone or e-mail:

Elelloang Basali Weavers
PO Box 449,
Teyateyaneng 200
Lesotho, Southern Africa

Tel: (266) 22501520

For visitors: we are located on the main road between Maputsoe and Teyateyaneng, about 3 km outside of town. Our tin-can weaving studio is right on the main road. We are open 7 days a week from 9am-5pm.

Meet the weavers: click here.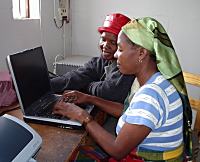 send e-mail