WELCOME to a unique shopping experience at africancraft.com

You'll find here a large selection of African arts, crafts, and gifts of the highest quality. All are imported directly from African artisans and designers, to allow you a choice of products hard to find outside Africa, from the convenience of your home.

Shop by vendor at any one of our online stores, or, if you're looking for a specific item (e.g. baskets, or masks, or Kente), select a category from the menu at the top of each page to browse our full line of products from all our vendors.
Happy shopping!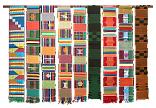 Davi Lojo


Your source for West African textiles from two of the finest weaving communities in Ghana and Cote d'Ivoire. The shop features traditional, one-of-a-kind Kente and Malinke cloths, as well as Davi Lojo's own original line of adaptations for modern use.
Bamboula

Bamboula Ltd. is a U.S.-based importer, wholesaler and retailer of contemporary African handcrafts. Bamboula strives to provide work for African artisans and create a stronger presence for their crafts in the competitive global marketplace.

Mbari Art
An unparalleled collection of paintings and prints of
contemporary African artists, which includes some of the
best-known names associated with the Oshogbo artistic
movement begun in Nigeria in the 1960s. The collection
grew to span artists from all over the continent.

Hamill Gallery of African Art
A representative selection from the gallery's outstanding collection of over 20,000 African artifacts. These uniquely beautiful items include textiles, masks, figures, beadwork, a great collection of posters and much more.

ABA's Shop

New in Aba's Shop: beautiful notepad booklets made by young Ghanaian children using recylced paper and Adinkra stamps. All proceeds from sales of the books go back to the children who made them. Also in the shop, barber shop signs by folk art painter AmassJ and a very nice selection of Adinkra stamps, Bolga baskets, Krobo glass beads and Aba's usual eclectic mix of unusual finds from Ghana.